John Waite discusses his new album "Best"
John Waite discusses his new album "Best"
July 25th, 2014 .
By
Mike Smith in Media Mikes.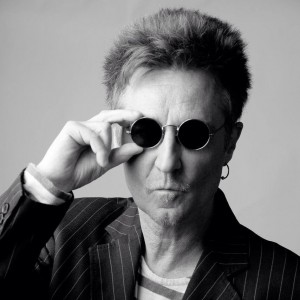 March 13, 1979. A group of friends and I are at the Lakeland (Florida) Civic Center to take in a concert by STYX. The opening band that night is The Baby's, fronted by singer/songwriter John Waite. As the concert begins, I meet a young lady who surprisingly takes a keen interest in me. As a gentleman never reveals his secrets, I'll just say that every time I hear the song "Every Time I Think of You"…I think of her.I recount this story to John Waite as we meet up to talk about his long musical career and the new release of "BEST," an 18-song collection of Waite's favorite songs, both as a member of the Babys and Bad English as well as his successful solo career, which includes the huge #1 hit "Missing You."Mike Smith: Why did you feel that now was the right time to release a "Best of" collection?
John Waite: Last year I put out an amazing live album. It shook me at how amazingly true it was. It was one of my greatest wishes to be able to put out an album like that while I was still able to sing the way I sing. Having done that I became aware of what songs were included on the live album and wished there were more. To make a long story short, I went to a photography exhibition by Richard Avedon on accident at Christmas. I went and stared at this wall of photos and wondered what they would sound like with music. To see this collection of his favorite photos not only planted the seed…it kicked me up the ass! I went back to England for Christmas with my sketch book and just made notes over a two week period. And then I hit the ground running. I re-cut "Back on My Feet Again" because I thought I could sing it better. I had only written it three hours before I first sang it all those years ago. I wanted to do it "stripped down," as most of my music is now. I wanted to do it very "spar." And I've always wanted another crack at "Missing You," because I think it's a great song. And I think it really has a lot in it when it has "less" in it. It's a true child of the 80's for sure…it's a "singles" mix.MS: How long did it take you to decide what songs you wanted to include?
JW: I went into the project with 18 songs in mind. Well, 17 really. There is an acoustic song called "I'm Ready" which is just me playing the guitar. It's a song about reincarnation and I was hesitant about putting it on. But it was so much "me" and so much about my roots. It's a sweet song, really. And then there are songs like "Bluebird Café" that maybe got away from people. These are the songs I felt were my best. They were the ones that always stuck out to me like a sore thumb and they're the ones that I like the best. I rang up a friend of mine who played bass and asked him "should I put on this song…should I put on that song" and he said "what are you asking me for…just put on your best!" That was the opinion I got and that was the opinion I took. It's my life…this is who I am.MS: Do you have a personal favorite among your own songs?
JW: I think "Bluebird Café" is great because it's just me and a guitar, with a little violin in the back somewhere. It's a story. And I like story songs. Those are my roots. I grew up with Western-songs (NOTE: rock and roll, blues – NOT country and western). A song like "Suicide Life" is dark. A really dark song. But it's also a true story in some ways. It's my take of being in the belly of Hollywood at night. It's about the people that inhabit the streets…the ones behind the neon. The society of people that take over when no one is looking. I love singing that song too. All the songs I've put on there are ones I love singing the most. So in answering your question, maybe that's why all 18 songs are on there. They're the ones that are closest to my heart.MS: I guess it's almost like asking a parent which child is his favorite.
JW: Yeah, yeah…absolutely. These are the ones that I've put the most heart in to. I wanted to explain where I come from. And the live section features the band playing the living shit out of the songs (laughs). And then there is the duet (NOTE: Waite duets with Allison Krauss on a new version of "Missing You") which I thought was a great way for the album to go out. I'm very happy with it…it was a very satisfying project. It's left me looking at my work and knowing what it meant. And it makes me excited to start a new record. I've got enough new songs that I could go into the studio today. But I'm putting it off because this record is occupying my time now. I'm sure I could go in and knock it out in two weeks as most of it is going to be acoustic. It's going to be a very interesting record.MS: If the album is successful, can you find another 18 songs for a 'BEST: PART 2"?
JW: No, I wouldn't do that. These are the songs. I went and re-recorded the ones I felt needed to be re-recorded. I wanted to show off the band, playing live. That is something you're not going to get, at a high degree, on a "greatest hits" record. There's the duet…there are some current songs. It's my take on ME. Like I said, I asked my friend the bass player and this is what I want. It's like the Richard Avedon photo exhibition. Those were his favorites…his best. I think it would be a bit boring trying to do Volume 2.