Downtown Journey Of A Heart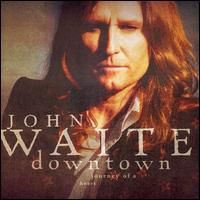 One thing that John Waite has come to understand during his illustrious career in music is that "life is a journey, not a destination and that you live and learn best the hard way". Accept that there can be no highs without lows, no gains without loss and certainly no love without pain. In his career, John Waite had several of his songs — including "Missing You," the Baby's "Isn't It Time" and Bad English's "When I See You Smile" — becoming radio staples worldwide. But, though known mainly for his ballads, John Waite is still an out-and-out rocker at heart. His new studio album, "DOWNTOWN journey of a heart" is a musical trip: a collection of brand new recordings of Waite's greatest hits plus an infectious rendition of Bob Dylan's rock classic "Highway 61", along side the sweeping balladry of "St. Patrick 's Day".

According to Waite, "those two new songs represent well the two sides of my musicality. The driving rock of "Highway 61" mirrors the energy of our live performances and shows the direction where I want to go next musically, while "St. Patrick's Day" is quite the opposite: a love song about two people meeting in New York". The new versions of Waites's classics are "very simple. I wanted to have a basic sound based on guitars, hammond organ and piano. No synth. Stripped and ready to be played live in front of the audience", states the Lancaster-born singer. Waite recorded five albums with The Baby's, starting soon after a solo career with "Ignition" a record which spawned the MTV/rock radio staple "Change", only to be surpassed by one of the greatest pop/rock ballads of all time "Missing You".

In the late 80's John Waite continued his success with super group Bad English. Along with a succession of Billboard Hot 100 hits he achieved the number 1 position, once again, with the band's single "When I See You Smile". In between recording for film soundtracks and touring Waite, finds himself simply being true to himself and to his art. "DOWNTOWN journey of a heart", has much to offer to everyone, memories for some and for many, new memories still to be created. A reflection of Waite's past and present and a glimpse into the future as his journey continues...
The Hard Way
In Dreams
Blue Venus (Instrumental)
Missing You (with Alison Krauss)
Keys To Your Heart
New York City Girl
Highway 61
Isn't It Time
St. Patrick's Day
Headfirst
Downtown
When I See You Smile



Listen here to the tracks
If anyone who cracked the charts in the 1980s got a bum rap and was left hanging, it was John Waite. The British singer and songwriter fronted the intensely melodic Babys, who wrote well-crafted, hooky, straight-up rock tunes and power ballads. Then, with "Missing You," the monster single from his breakthrough record No Brakes, Waite was saddled as one of the dukes of power pop balladry. Nobody ever let him live it down. Waite fronted the supergroup Bad English with bandmates Neal Schon and Jonathan Cain from Journey, scored big once again with the overdone "When I See You Smile," and then went right back to being a solo artist. He has been accused of writing and singing directly for the charts and has been looked at impassively since the early '90s. It's too bad that the ballad and the power ballad have been looked at with such cynical disdain. Everyone looks at Sting as a "sophisticated" pop songwriter simply because he forgot how to rock and has to resort to gimmick-like lute music to get himself across. Waite has been stubborn; he's no changeling. His songs have always stuck closely to big-time rock & roll as a chosen method of expression whether it's an up-tempo shaker or a tear-jerking ballad. It's true that he's not always been wise in his choice of producers, but that said, he's always made exactly the record he wanted to make.

Downtown: Journey of a Heart was issued in England and Canada last year, it hits the racks in 2007 on Rounder in the U.S. The title is the story. Waite has consistently written about the human heart seeking rest. The heart is his most consistent image in the same way that redemption has been Bruce Springsteen's. The album contains two new cuts, a cover of Bob Dylan's "Highway 61 Revisited," and a handful-and-a-half of tunes from his catalog. This isn't the first time he's tried to get his songs across on multiple albums, and there's good reason for that: nobody's really heard them apart from hardcore fans -- and God bless them for keeping him in the game, albeit on the margins. Be honest. Who ever heard the fine, sometimes brilliant Figure in a Landscape from 2001? Or the fine Hard Way from 2004? This time out, he's very smart. He's got a tight band that includes ex-Springsteen guitarist Shane Fontayne and keyboard boss Reese Wynans and a slew of others; Waite's name is listed first in the producer's chair. The music here is edgy, sharp and expertly executed. For the first time in a long, long while Waite might get a chance here in the States.

Yes, he re-does "Missing You," but with a twist: Alison Krauss duets with him on it, and she proves she can sing any damned thing she pleases -- especially rock & roll. If there's justice, he might crack it again with this track, but it's far from the best thing here. His "Hard Way" is a narrative rocker with punch, grit and steam. His beautiful re-do of "New York City Girl" is one of the finest broken love ballads to fall out of an album in this decade. The Dylan cover is well meant and reveals Waite's agility as a singer: he proves yet again that he has the ability to sing the rock-blues, but it wasn't necessary here. "St. Patrick's Day," one of the new songs, is a fine story ballad and proves the man can still write mean and lean narratives worthy of greatness. Waite spins a yarn worthy of the rock generations that preceded him -- Van Morrison, Springsteen, Willy DeVille, Mellencamp, Richard Thompson -- yeah, it's a diverse group, but Waite's a Brit who gets this place better than most Americans. He tells a story that follows his protagonist through shifting scenes and crowds to zero in on a pair of lovers in an impossible world who somehow succeed. It's deep, moving and full of extra touches that make it irresistible. "Head First" is wilder than its original version, and it's one of those crazy hedonistic straight-up rockers that's been missing from the scene for at least a decade. Then there's "Downtown," from his 1995 album Temple Bar, a piano-pain