John Waite is back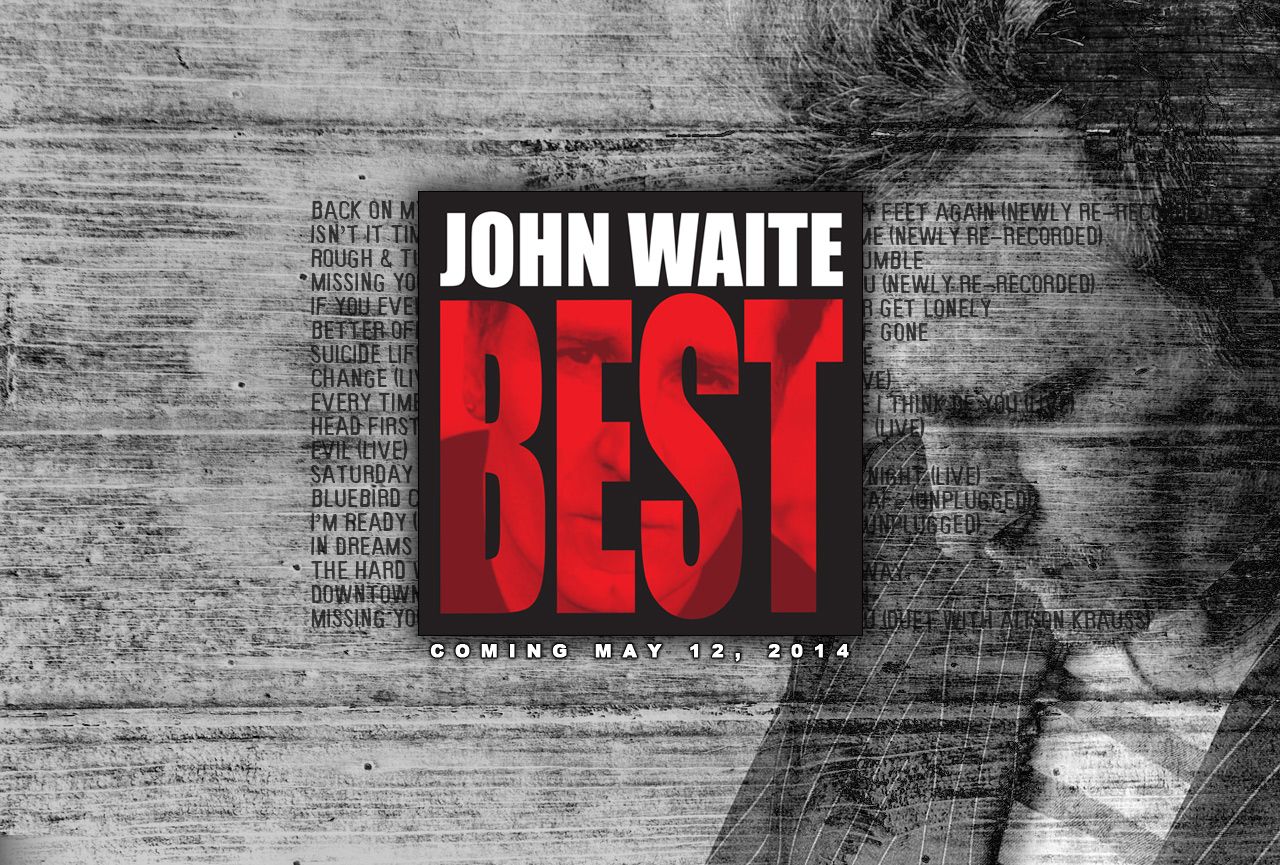 The Story
I suppose the idea for BEST came to me last December. I was in Beverly Hills just walking in the rain. There was an exhibition of the photography of Richard Avedon and I'd always been interested in his work so I thought I'd check it out, get out of the rain for a while and then get a glass of wine. I remember a huge white wall with at least 60 different photos–all figurative stuff, all different. It was a very '60s approach. I write, play and sing music but I'm also very interested in art. I don't really see the difference in the different mediums; literature, painting, acting, etc., it's all expression. I saw the pictures presented that way and considered what its counterpart would be musically and BEST came out of that. I didn't want to do the obvious thing and simply put out a "Greatest Hits" record as anyone can do that through iTunes. Just download a play list and hey, "presto."
This collection is called BEST because it's my best. It's me putting together my favorite work and it's totally subjective; I had no one to answer to but myself. It was, I have to say, great fun. I re-sang "Missing You" and "Back On My Feet Again" as the lyrics and melodies had been written literally hours or at most a day before recording the originals so long ago. I always felt I could "do" them better and bring something to them that I'd missed, update the production and make them more vital. And besides, a retrospective was a nice way of looking at my work. I wanted to connect the dots as much for myself as for anyone who might hear it.
I set about the task at hand on my return from England on New Year's Eve. I'd been making lists over the holidays and decided to simply follow my heart. There was no way I could exclude "Bluebird Café" or "Suicide Life." I also wanted to add live tracks from my great live band–Tim Hogan (bass), Kerri Kelli (guitar) and Rhondo (drummer)–and I remembered I had a steaming unreleased version of "Every Time I Think Of You" from last year that was so real it bordered on '60s soul music. My duet with Alison Krauss on "Missing You" was important to me on a profound level as it showed my love for country, bluegrass and in fact, Alison, whilst "Rough and Tumble" was pure blues rock.
---
There are 18 songs on BEST. It's been a long career and this is

The story

–BEST yet actually. The story is far from over.
---




The Songs
Back On My Feet Again ( newly re-recorded)
John Waite: We had written all of the songs for the record and we thought we had a great record. There was a song that the record company insisted on us doing called "Yesterday's Heroes." It was really a song about being a failure. I don't know what they were thinking. There was this guy called Roger who worked in the A&R department and he was saying, "This is a great song and you need to cut it." I kept saying "no." Our producer, Keith Olsen, kept making excuses for me. The band cut the track when I wasn't there, as they were trying to appease the record company. I kept telling them that I was not singing that song. I was not going to sing those lyrics, as they were a piece of shit. On the last day of recording, I was getting out of bed and I was getting a cup of coffee and lighting a cigarette—a Marlboro Light, it was—and I sat down in my dressing gown and I wrote "Back on My Feet Again." I wrote the lyric out and I sang over the top of this other song with a completely different melody and a whole new set of words on it. The next day I came in and put the "Hey babe, I'm back on my feet again. Here I am…" Everyone was really speechless. They had cut this song that wasn't that good and now we had this.
Isn't It Time (newly re-recorded)
John Waite: It was like a Philadelphia soul song. Our producer came up with the song and said, "Hey, I've got these guys that I work with and I've got a great song." With "Isn't It Time," you have to really appreciate that we did an absolute number on it, all the backing vocals and I changed the melody.
Rough & Tumble
John Waite: I thought it was just a great name. It was quite a poetic track on one level; it's quite sexual on another level and it's quite spiritual on another level – if there's a difference. "Rough & Tumble" just seemed to me to encapsulate my life and my music at the time. I thought it was a great title – some song titles just say "use me," it's got music in it and besides the syllables work. "Rough & Tumble" made it to number one of the Classic Rock charts in America.
Missing You (newly re-recorded)
Single available now on iTunes!
John Waite: "Missing You" is an amalgam of three different people. In his book, Remembrance of Things Past, Marcel Proust says that when he imagines a country girl he also imagines the country. You can't separate the girl from the river and the trees and the grass because everything is the same experience. I was writing about these women, I was writing about New York, and I was also writing about distance. Each girl played a very large part in that song. I've never got bored singing it. It took ten minutes to write it, and maybe that's why. It came out of nowhere, and was made up on the spot. It's very genuine. It's almost like a blues song. It's about denial. The lyrics are good. It came off the top of my head. It was the last thing I wrote for the record, and it always gets that same response, where people just stop breathing for a second; it's that big. My marriage was in a mess. It was kind of over, and I was torn. I was living in LA trying to finish the record, then I'd be living in New York, and my life was just a mess. When I hit the chorus, I didn't know I was going to sing, "I ain't missing you." Somebody said the other day, if I had just sang, "I'm missing you," it would have been just crap. Then he said, "You put denial in there, and it's what every man goes through; denial." So it made it extra twisted and kind of clever.
If You Ever Get Lonely
John Waite: There was a song floating around Nashville called "If You Ever Get Lonely" and my manager kept telling me that it was a great song. I kept telling him "no." The chorus was great, but the rest of it was really pretty much like one of those things that come out of Nashville, where someone writes a verse, and one person writes a chorus, and everyone writes a different part. It actually sounded like a Cat Stevens song or something. I got what he was saying about the chorus, though. After one of the days in the studio with Kyle Cook, who is from Matchbox 20, we talked about the chorus and how it had something and how the rest of the song was not working. We started going back and forth with different lyrics and the whole thing happened in about five minutes.
Better Off Gone
John Waite: "Better Off Gone" was the first thing me and Kyle (Cook) wrote together. We literally came up with it between "hello" and "how you doin'?"! We were both playing acoustic guitars. I was watching his hands and he was watching mine. It was a great start to four songs for the Rough & Tumble album. I wrote "Evil," "If You Ever Get Lonely" and "Love's Going Out Of Style" in quick succession. Great guitar player and nice guy. He played on the American and European gigs too.
Suicide Life
John Waite: The album When You Were Mine was originally called Suicide Life. The record company politely requested the title be changed as it might scare people off. They had a point. Try to imagine explaining that title in every radio station you went into. Good idea actually. It's my best album. It was really ahead of the curve. I'd spent a lot of time in Nashville trying to find the heart of country, the honesty in the songwriting. "Bluebird Café" is on that CD as well as "Imaginary Girl." "Suicide Life" wasn't country but I was casting about for subjects that had meaning. Hollywood Boulevard east of Musso and Frank's restaurant slowly turned into a wasteland–space cadets, runaways, hookers, rough trade, junkies, the works. It felt if you kept walking into the darkness you could fall off the edge of the world! I was staying in Hollywood and found myself wandering around there after dark. The back stories on those people are probably simple but what happened to them isn't. It's one of my best. Wrote the music with Shane Fontayne.
Change (live)
John Waite: I remember getting a cassette in the mail of "Change" by this group called Spider. I played it on by little tape recorder and thought, "Christ, that's a great chorus" but I didn't dig some of the lyrics so I rewrote some of the words. I thought it would be a great single. It was timely. It sounded a little bit like The Babys but it had something else. I thought it was a very good song but it needed a tweak or two and I gave it those tweaks. The crowd goes nuts when we playit. I still open the show with that song.
Every Time I Think Of You (live)
John Waite: We tried to repeat the success that "Isn't It Time" had by using the same situation. That's something that Steve Marriott and Paul Rodgers showed me from a distance is you can sing hard rock and flip the coin and sing a ballad and it's still believable.
Head First (live)
John Waite: I'd already called the album Head First so I felt, "Why don't I just write a song called 'Head First'?" I made up all these lyrics about what was in my head and it didn't make any sense at all and for a couple of days we called it "Sunday Afternoon." As for the music, Tony came up with the revolving piano line for "Head First" and then Wally came up with the guitar line over the top playing it as a one line thing. We recorded it in a room as big as a broom closet. We'd gone from using cathedral style huge recording rooms to something the size of a drum booth in a tiny mix room at the Record Plant in Los Angeles.
Evil (live)
John Waite: "Evil" is almost like "Miss You" by The Stones. It's very New York City. It sounds like somebody's really out of their mind and it's sexy because of that. It's very seventies and very Studio 54.
Saturday Night (live)
John Waite: I co-wrote "Saturday Night" with Gary Myrick who was a real Texas blues guy but he played extremely unorthodox guitar. All you have to do with me is make a noise and I'll give you a lyric. I'm very responsive like that. We decided to play some flat out fuckin' rock and then I took the music away to work on the lyrics. Bruce Springsteen's guitar player, Nils Lofgren, had a song where he sings about dancing in the streets ("Secrets in the Street"). I thought about Nils dancing in the streets at dawn coming home and that appears in the song, (recites lyrics), "Ain't it just like me to be dancing in the streets." But I was thinking about Verlaine, the poet, and that thing where you're a moment away from making something rhyme. Expectation. Ten Seconds to Midnight. And I was thinking about (Johannes) Vermeer (Dutch painter) when things are pre-dawn and you're with somebody and it's a really beautiful moment. Then Gene Vincent gets name checked in the song, (recites lyrics), "and just like Gene Vincent, I'm longing to groove…" and he was a flat out rock icon. I put them all in the same tune. It was a time to really throw down if you were gonna throw down. I was living in New York City and was just coming out of my shoes. It was a very creative time.
Bluebird Café (unplugged)
John Waite: I was raised on Western music. Cowboys and Indians to rock and roll was a natural move. The acoustic guitar came before the electric and so did the storytelling. "Bluebird Café" is probably the best thing I've done. Donny Lowery had the line, "young hearts can fly, restless and wild." I had nothing. It was such a great line. We quit for a beer at a local bar. Maybe that would help. Out of nowhere came this super pretty Iranian waitress. We were flirting with her. How could you not? She was playing The Ace of Clubs that night with her band and I could tell how much it meant to her. Pure Nashville. A light went off over my head and I thought, "why not the Bluebird Cafe?" All those young hopeful singer/songwriters on "open mic night"! Me and Donny went back to the studio and I killed it. It's my best. I've said in the press "if Willie Nelson covers it I'll kiss his feet." I'm only half kidding; an older voice singing about a young girl making her way in Nashville….
I'm Ready (unplugged)
John Waite: I wrote "I'm Ready" in my cottage in the Lake District at night towards the end of a bitter cold winter. It's folk. The acoustic guitar is "first" in everything for me when it comes to songwriting. I don't think it could have been written anywhere else. It's a song about reincarnation, finding the same girl over and over through different lives. It had to go on the record. It's just me alone.
In Dreams
John Waite: The film company, Morgan Creek, sent me a video of a scene from Quentin Tarantino's new movie called True Romance. Tony Scott was directing and the cast was "A" list to say the least. I was working with the songwriter Mark Spiro at the time so I thought it just might be an easy thing to "knock out." It was the first time I'd actually written something for a movie. It came together very quickly at Mark's home studio. The demo is the "master." The vocal is what happened winging it. Mark and I work well together and he's still a clos friend. As for me and Tony Scott, we wound up shooting the video for "In Dreams" in Monument Valley with me on top of a mesa and Tony dive bombing me in a helicopter shooting at 360 degrees. It was a life memory. Not only to be on top of that mesa and close to God but to work with Tony. I liked him enormously. I still think about him. He's missed.
The Hard Way
John Waite: I was spending more time in Nashville. It was still pretty much undiscovered. Rodney Crowell and Vince Gill were putting out killer stuff and there was such a feeling of "trueness" to everything. I would sit outside the Ryman auditorium and just stare at it. I could never go in for some reason. How I met Jeffrey Steel is a story in itself. He was playing down the street from me in Santa Monica and Debby Holiday invited me down. It was a songwriters circle. Jeff was really outstanding on stage and off–great guy. We made a loose arrangement to work together the next time I was in Nashville. I had the title of "The Hard Way," a basic plot of two people with different expectations facing in opposite directions, a guitar lick and even a rough bit of melody. But for the life of me I couldn't do anything with any of it. Me and Jeff met up in a writing room one morning, coffee-d up and jumped in. I remember a train whistle blowing from far away. The south. He was on! I'd come to the table with the best I had to offer that wasn't finished. I took him very seriously. Jeff immediately got it and took over. I just stood back. He was great. Within an hour it all made sense, was complet and didn't sound like anything I'd heard before. He's one of the "real ones" in Nashville. Good song. It's almost country.
Downtown
John Waite: There was an old upright Steinway at Sony Music on 5th Avenue. Totally beaten and out of tune. It looked like it had been through a war. It had a poignant tone to it and it always moved me. Glen Burtnick and I would spend hours just talking about the song we would be thinking of writing and suddenly it would just happen. "Downtown" was a song about a long walk in the city and the movie that plays memories back in you're mind as you remember the past. It's a difficult song to talk about. It was so personal. I can't add anything; it's complet
Missing You (duet with Allison Krauss)
John Waite: I recorded this album Downtown that had a lot of my favorite songs on it. We tried to rework the songs a little differently but when it came to "Missing You" I couldn't think of anything to do with it but a duet. My favorite female singer is AllisonKrauss so I called her up and she said yes. I was in Nashville at the time so she just came down one afternoon and away we went and we got it in an afternoon. I went and sang on her record after that and then I played The Opry, which was a very big deal for me.
(Track-by-track and edited by Ken Sharp)