No One To Blame But Himself: An Interview with John Waite
By Jeb Wright
John Waite may be best known for soft rock classics "Missing You" as a solo artist and "When I See You Smile" with super group Bad English, but going back to when he was just a Baby, Waite has another side to him. One listen to "Back on My Feet Again," "Head First" or "Rough & Tumble" and you will discover that that sweet voiced crooner can crank it up to 11 with best of them.
John pulls out all the stops on his new iTunes live album Live All Access, featuring hard rocking guitarist Keri Kelli. Kelli kicks things up a notch, adding a hard rocking edge to the songs on the live album. Waite is singing like a man possessed on this sucker as well, with his unique voice still sounding as sharp as ever.
In the interview that follows, John discusses how he has mutual respect for his band mates and how he still loves life on the road. He also knew, instinctively, that he had to record his current band, as they are one of the strongest ensembles he has ever performed with. Here, we also talk about why he decided to leave off some of his most iconic hits songs on the new live album and how being a rock star does not measure up to being a true musician.
It's not all new stuff, however, as we take a trip back in time and discuss why "When I See You Smile" was not the right song for Bad English and how rewriting a tune brought the hit "Back on My Feet Again" to The Babys.

---
Jeb: Live All Access is a cool live release, as you did it digitally only. You have a great new guitarist in Keri Kelli. How did you end up with him in the band?
John: He just showed up. We were looking for a guitar player, as we had some gigs coming up, and our guitar player had left town. A friend of ours, who is a deejay called Jacky Bam Bam, knew Keri. We got together one afternoon and we went through some songs and it sounded great.
We told Keri to learn fifteen songs and that we would see him at the airport, as we had a gig coming up in Detroit. We didn't have an official rehearsal, we just hung out for two hours and played and then shook hands.
We had a headline gig by the river in Detroit with about four thousand people and he came out swinging. It took about four, or five, gigs for him to really find his feet, because that is a lot to give a guitar player. This is a whole different style for him to play.
At first, you could tell he was looking for his place in the band, but after about a month, he was really holding the songs together and bringing new things to the songs, but keeping to the song structure, which was what I was looking for. After two, or three, months, we were really playing well and the band started playing so well, and I was singing well, so I decided to record it. Really, it was my instinct to record this band as soon as I possibly could even though I didn't know what I was going to do with it at the time.
Jeb: Keri is an energetic player.
John: So am I, when we are up there we are serious and we don't take any prisoners: it is completely full throttle. As soon as we hit "If You Ever Get Lonely," Keri owns it. It was impressive that he could go from something that was flat out rock to something that was more controlled and it would be just as fiery. It's pretty fucking good, actually.
Jeb: The track listing is surprising as some of the huge hits are not on this release.
John: We are still grooving on playing stuff from Rough & Tumble. There are a couple of classic rocker type songs like "Head First" on there, and the songs from Rough & Tumble are really rocking. We did put "In Dreams" and "If You Ever Get Lonely" on there. It was like putting together a jigsaw.
These are the best songs that we played and recorded. I didn't want to add songs on to just pad the album; I liked it the way it was. I didn't know if I was going to do this as an official release, or if I was going to use it as bonus tracks, or whatever. But these were the songs I picked, because they were working. It ended up being a full album and it is not what one might think, or expect. I didn't want to make one of those records that people would expect; that was the whole point.
Jeb: If you had just cherry picked the hits on the live album then it would not have had the same vibe. It takes balls to leave off "Missing You" on a John Waite live album.
John: This was not one of those things where a record company was involved, as I was calling the shots. If you play Rough & Tumble and then you play Live All Access then they fit together really well. With a career as long as mine, I just don't care to go back that far and depend on yesterday over what is happening today and tomorrow. The singing is good; I know I sang pretty well on this one. This is what we are now and it is where we are now.
Jeb: Rough & Tumble was a harder rocking album for you. You get lumped in as a ballad guy, and I think people can forget you are a rocker, too.
John: Once you get something as big as "Missing You," it is a blessing and a curse. From that point on, everyone thinks of you as the guy who did "Missing You." That song just didn't fit the record. I thought we did "In Dreams" so well, it was beautiful. It was really emotional. "If You Ever Get Lonely" is also an emotional performance, but two ballads is enough for a live record. I wasn't going to put on "Missing You" because it was expected.
Jeb: "If You Ever Get Lonely" is getting some crossover success with a country artist called Love and Theft.
John: There was a song floating around Nashville called "If You Ever Get Lonely" and my manager kept telling me that it was a great song. I kept telling him 'no'. The chorus was great, but the rest of it was really pretty much like one of those things that come out of Nashville, where someone writes a verse, and one person writes a chorus, and everyone writes a different part. It actually sounded like a Cat Stevens song or something. I got what he was saying about the chorus, though.
After one of the days in the studio with Kyle Cook, who is from Matchbox 20, we talked about the chorus and how it had something and how the rest of the song was not working. We started going back and forth with different lyrics and the whole thing happened in about five minutes.
It doesn't really stray from that theme—it is all about a phone call. When that big chorus happens in the middle, there is irony there, as the guy is trying to stay tough. Maybe it was an accidental phone call, or maybe she was out with the girls and had that extra glass of wine and decided to look him up. It was a very personal song and it went right into that chorus and we wrote a bridge for it and Kyle put a guitar solo on it. We did a huge arrangement on it and pulled it into something that is ours…it's a hybrid really. I was right.
Jeb: How did it end up in the hands of a country artist?
John: Once you record a song and put it out, it is kind of like anybody can copy it. Kyle's publisher took it to them and told them they should have a go at it and they jumped on it.
Jeb: Didn't you live in Nashville?
John: I spent a lot of time in Nashville and I was living with someone there and I had a life. I got to meet all of the really hardcore bluegrass people. That impressed me a great deal, but Nashville has changed quite a lot over the last five years. There have always been a lot of great songwriters there, but now it has become to be big business, which makes it less charming to me than it once was. If you go for a cup of coffee in Nashville you get recognized now, whereas before, people would just nod to you. It is a little strange, really.
I have always been a huge fan of country music, as it is part of where I come from. All of that cowboy imagery really comes out. I am talking about guys like Marty Robbins, as he was a huge influence on me. I used to play country songs in The Babys. There is a song called "Restless Heart" that they would not do, so it had to be on a solo album. I think that is where my storytelling comes from; it is an extension of those influences.
Jeb: Would you ever do a pure country album?
John: I sang with Alison Krauss on a couple of her albums and I would love to do it, but one of the reasons I did All Access Live is because everyone has gone country, so the only honorable thing for me to do was to make a rock record. I'm like that…if the trend goes one way, then I go the other.
I made an album called When You Were Mine in 1996 that has strong acoustic values, and tells stories, and it was completely different to what I had done before. I would like to go back and review that and do something like that next, but I don't think you will ever hear me singing with banjos.
Jeb: Are you going to tour the live album?
John: We were going to tour this flat out but our agent has not come up with a tour. If we are not going to tour, I am going to take a bit of time off and just disappear and then come back and do a new record.
The album was meant to motivate a tour. It took a long time to mix it and get it as I wanted it. I delivered it and put it out and there are no gigs. That's show business man!
We are on a roll 'live'. We did a headline show recently in Dayton, Ohio and we brought the house down. There were thousands of people there and this band did great on that big stage. We are not going to just go on the road to play medium sized clubs to get to radio to get a hit record. We did that on Rough & Tumble, as we were on the road for about eight months. We did radio every morning and we did Fox TV. We had the number one single on classic rock with "Rough & Tumble." It cost a lot of money to do it that way. At the end of the year I grossed a huge amount of money, but I netted about twenty grand. It is really expensive to stay out on the road. I don't want to do that with a band this good; I just want to play the bigger gigs.
Jeb: You have fans that will steal the new album instead of buying it on iTunes.
John: It is what it is. It has put the record companies on their back foot, which is kind of cool. You can't download vinyl and I would like to see it all go back to vinyl. I am not so good on a computer, so I don't even know how to pirate music on a computer, so I just go to iTunes. I got the Rolling Stones album Hyde Park Live last week. It was 24-tracks and it was like 15 dollars and I said, "I'll take it." Five minutes later, I had it all and all the artwork.
Music is free. You make money playing live. It is part of the deal. Music was free from the word go, from year one, man. It was never meant to be sold. How can you sell music?
There is a Catch 22 to the whole thing. You are meant to play these songs and it is meant to be the world language. You play the music and it makes people feel good, or it makes people feel less alone if they are going through a bad time. It ignites the fucking world and it is the whole reason why we do what we do and why we love it. To think of it in terms of dollars and cents is kind of absurd.
Jeb: At the same time a professional musician had to be paid.
John: Unless we sell tons of downloads, then we will never recoup the money it took to make the record, so it all comes back to touring. The new release gives us an excuse to tour. I just wanted to get this out to people as I wanted them to hear it. There is a real reward in just putting it out there and you just hope people get it.
Jeb: I will be honest I thought this would be much different. The album really rocks.
John: It is a complete thing. It is one of the few records that I actually play and I don't go, "Damn, I should have sung that different on that one part." I still get this album a month after it is released, and that is great. On that level, it is one of the best albums I have done. It is what I intended to do.
You start off making a record and it never comes out as you thought it would. You have to solve a lot of things as you make records. You have to deal with politics, as well as technical and financial aspects that come along as you are making the record. You have a lot to take into consideration.
We managed to make this album pure and we pulled it out of the air. It is always what I wanted to do. It sounds like something you would hear from a British rock band from 1972. If I didn't record again, and this was the last record that I ever made, I would be really proud of it.
Jeb: You still like your hit songs though…
John: We were playing the Underworld in Camden Town in London and I had Kyle on guitar and the same rhythm section… actually, the guitar player was Luis Maldonado. I was singing one of our hits and I was thinking, "This is all very well, but I don't want to spend my life being a jukebox."
I had said that before, but it really hit me at that time that I needed to start writing some new songs. When I came back to America, I started work almost immediately on Rough & Tumble. I am not one to sit still. I listen to a lot of different music and I am very critical of music. I know when it is real and when someone is pretending. I am a purist and it is up to me to call the shots and move forward. I would hope that sometime in the next five years I would arrive somewhere that I would not have expected to arrive. If I am somewhere I haven't been before, then that is where I am meant to be.
Jeb: You still have a lot to give as an artist.
John: I think there is a tremendous amount possible in songwriting. I have a song that I have been working on for two years that is like a little time bomb, that is hardcore, and has a great lyric. It is really off the wall and it will probably make it to where I have to do another studio album just to put that one song out. It really pulls you back in.
If I don't do that and this is the last album then I can say, "Okay, what a career." I am singing the best I have ever sung and the band is one of the best bands I have been with. I am very pleased.
Jeb: The fact that you had huge success with ballads instead of great rockers…has that ever frustrated you?
John: All of the decisions that I've made have been my own. I don't think I have been pushed into anything. I am responsible for what I have done.
There is always a twist on things. If nine tenths of the record is really hardcore rock, then you have to have something to balance it. Well, if you're AC/DC and you're making the album Powerage, then that isn't the case, and that turned out great. I always wanted to stir the waters up. I think it has perplexed people.
"Missing You" is a sharp song with great lyrics, but with "When I See You Smile" that was not what we should have been doing in Bad English. We kind of owed the A&R guys a favor. I thought we would just cut it and tell them we at least tried and then they would let us go our own way. When we recorded it, then it really did sound like a Number One.
It went to Number One everywhere and I have to ask what is wrong with being number one? At the same time, it was the wrong song for the band to rest its career on. It really was done as a favor to show them that we tried it and that it didn't work. Everyone in the band was so fucking good at what they did that we made it into a hit. It was like, "How did we do that?" Everyone was smiling at us like we finally did it. I was doing Rockline the other day and they played "Forget Me Not" and it really brought it back to me how strong of a band that was.
Jeb: The first album worked well with Bad English.
John: We were able to compromise on the first album. People started to revert from that with time. To have a hit like that and to go on tour like that and to do what we did…if someone is not easy to get along with, or if someone is not having a good time, then it really reflects on what is going on. Everyone starts to shut down and it is really weird.
Jeb: Is that why you enjoy the solo career more?
John: I always play with people I like and I think that really helps. When you've been on the road for three days straight, and you haven't had any sleep, and you're in the back of a van and somebody cracks a joke, and everyone starts laughing, then that is worth a million.
A lot of people are very professional and travel separately, and don't really talk to each other, and they do their hits and go home. But for me it is more of an organic exchange, and it is kind of exciting, and it is more of an adventure. I have a very dry sense of humor. When you have bad gig, or something, and you get in the van to go back to the hotel and you feel bad, then someone will make a dry line to try to be funny. It is great actually to travel with people who will pick you up when you have a bad moment. You know who your friends are when you are on the road.
Jeb: But you have to be the boss as it's your name on the line.
John: Oh no, no, no. I mean, you know, I have mutual respect with the band. I want to hear it in time and in tune, but after that it is like Zen. You learn the thing until you can do it in your sleep and then you bring yourself to it.
When we walk out there, the four of us, we know what our job is, but we are looking forward to it like a very thirsty person looks at a glass of lemonade. It is what we came there for; that is all I know. While I can still do it, then that is the level I want to be on. I don't want to become this ultra-professional type of guy who does the exact thing every night.
Jeb: Are you happier doing this then when you were playing stadiums?
John: I am up for any kind of gig. That separates the men from the boys. All gigs are important, as somebody paid to get in, and somebody bought one of your albums, and somebody wants to sort of meet you.
It's a big deal to people. I did a tour of Borders bookstores about five years ago. I saw a friend of mine playing guitar in Starbucks. He was opening for Tom Petty, but during the day he was playing Starbucks to sell some CDs. I thought, "How great is that?"
When I released my album The Hard Way, I got a guitar player and a roadie and we drove across America and we played for free in Borders. We would get 500 people in Borders. There was a recession, too. There were a lot of people who didn't have the money to buy a concert ticket, but they would come see us for free in the bookstore and get to shake hands and get something signed. I had more fun doing that than flying first class and playing in huge places.
Like I said, the new band has played a couple of massive places in the last month and it was like it is where it should be, as we've done all the legwork doing the tour with Rough & Tumble. The band is so much better on a big stage that it is kind of the way it is meant to be.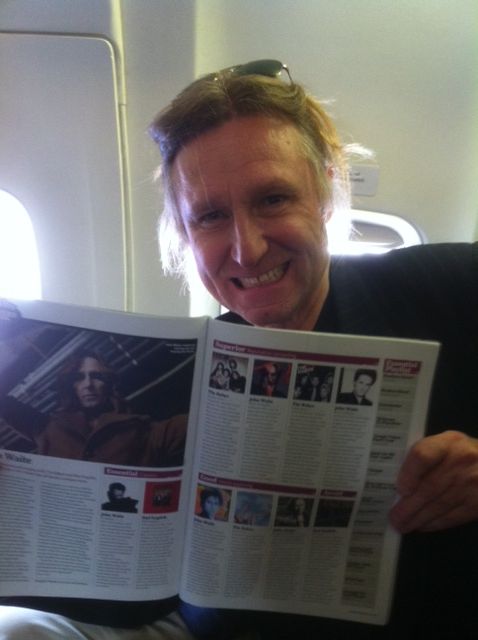 Jeb: You are more interested in being a musician than a rock star.
John: I hear what you're saying. We will be driving down the road and Tim [Hogan], the bass player, will turn to me and say, "Did I ever tell you how much I love this life?" We all crack up.
The highway…you get to visit Jack Kerouac's grave and you get to go visit the great recording studios and you get to see America from the ground up. It is really a great experience. Who knows? This band is just as good on a medium stage as it is on a giant stage.
What intrigues me is how it ratchets up when we are on a big stage. The last gig was on a big stage and it was the best gig we've done. We played "Whole Lotta Love" and the place came unglued. We are not trying to sell you an expensive T-shirt or a very expensive beer—there is none of that shit. We are just trying to play music.
Jeb: Last one: I loved The Babys and I love Union Jacks. What is the story behind the song "Back on My Feet Again"?
John: We had written all of the songs for the record and we thought we had a great record. There was a song that the record company insisted on us doing called "Yesterday's Heroes." It was really a song about being a failure. I don't know what the fuck they were thinking.
There was this guy called Roger who worked in the A&R department and he was saying, "This is a great song and you need to cut it." I kept saying 'no'. Producer Keith Olsen kept making excuses for me. The band cut the track when I wasn't there, as they were trying to appease the record company. I kept telling them that I was not singing that song. I was not going to sing those lyrics, as they were a piece of shit.
On the last day of recording, I was getting out of bed and I was getting a cup of coffee and lighting a cigarette—a Marlboro Light, it was—and I sat down in my dressing gown and I wrote "Back on My Feet Again." I wrote the lyric out and I sang over the top of this other song with a completely different melody and a whole new set of words on it. The next day I came in and put the "Hey babe, I'm back on my feet again. Here I am…" Everyone was really speechless. They had cut this song that wasn't that good and now we had this.
That is the story of "Back on My Feet Again." The record company still didn't like it! Live and learn. I've made them a huge amount of money in my life and they never send me a royalty check, as they say I owe them money!
Jeb: Are you okay with the history of The Babys?
John: It was a very, very good band. We went astray at the end. After Head First there were two choices; we could go back to England and call it a day, or we could just have a ball playing live for a year and see what happens.
We went out on the Head First Tour and "Every time I Think of You" was number one at AM and "Head First" was number one at FM. You couldn't go anywhere in America without hearing either song, but we still didn't have a hit because the records were not in the stores.
From that point on, from that first year, which was probably the happiest year, it just became a fight between the record company and the band. It had a strange beauty to it as there was something about being really great and having fate hold you back. There was something dark about it like it wasn't meant to win. I kind of dig that. It is a romantic story. It had its time, and it was ahead of its time, but the fact that it took people a few years to catch up…we were right. We always knew where we were going.
https://itunes.apple.com/us/album/live-all-access/id660924348