Ionic Popstar at Kettering Ohio July 19th
By D.B. Buckner, Contributing Writer - July 20, 2013.

Fraze Pavilion in Kettering, Ohio. Tickets were only $5.00 as part of their Friday night concert series (What? That is crazy talk! Crazy talk I tell ya!). John Waite didn't disappoint.
It is not often you get to hear an artist responsible for two Billboard Hot 100 number one hits and platinum albums in an intimate setting like The Fraze. It is even rarer that a show like that won't require you to take out a second mortgage in order to afford a pair of tickets. It truly was an incredible night of entertainment.
John hit the stage like a bolt of lightening shortly after 9:00 p.m. with his hit "Change". I was amazed that at the age of 61 he still was the same high energy performer with a strong powerful yet silky smooth voice. John Waite looks better, sounds better and is in better shape at 61 than most people in their 20s.
Backed by a power trio of a band that sounded as good as any band I have heard at a live show, John went on to perform hits from across the span of his career and several cover tunes. He performed hits from The Babys and Bad English as well as a lot of his solo stuff (both old and recent). When a lot of people think of John Waite, they think of soft power ballads from the '80s, but anyone who was at this show will attest to the fact that this man can ROCK!
It is hard to put this performance into words. I have seen a lot of great local bands and even a number of national headline acts, but you can tell that John Waite is on another level. He is from a time where rock bands had big hair, bigger sound and regularly sold out enormous arenas and stadiums. His stage presence would dwarf most modern-day performers. Even though he performs in front of thousands of people, John makes you feel like he is singing directly to you. That kind of mastery of the audience is largely a lost art.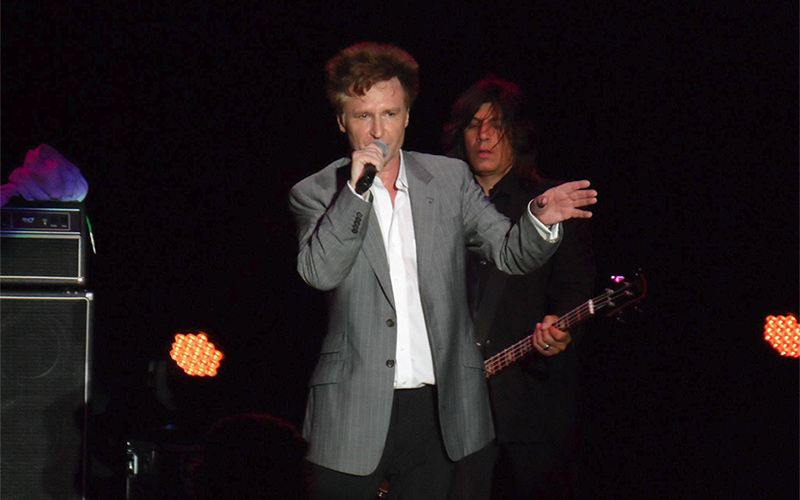 "Do these pants make me look like Rod Stewart", he asked the audience. "I feel like I look like Rod Stewart from the waste down; only thinner, better looking and more well endowed". The entire audience laughed. It was just an example of how John Waite could connect with the crowd that seemed to range in age from about 15 to 70. To the younger crowd he was a cool vintage rocker that was a hero to many of their own heroes. To the older crowd he was someone whose music carried memories from their youth. To everyone, he was the consummate performer.
After about an hour and a half of a hard rocking, high energy, nonstop performance (that was highlighted by a live performance of "Missing You"), John and his band left the stage. The Fraze crowd stomped their feet, pounded on seats and screamed at the top of their lungs for an encore. John came back out without the band and led the crowd in an a cappella version of the number one hit "When I See You Smile". The crowd was a bit rusty (with most of us not having heard the song in at least a decade), but it made for a lighthearted fun moment. The band then joined John Waite on stage for a performance of Led Zeppelin's "Whole Lotta Love". How awesome is that? An iconic voice of '80s rock performing a song by the "biggest band in the world" of the '70s was enough to make music aficionados heads explode.
If John Waite ever returns to Dayton, do what ever you have to do to get to the show. You won't be disappointed. Several people I talked to after the show said it was one of the best shows they have ever seen. I wholeheartedly agree. John Waite puts on one heck of a rock and roll show.