Break Out Mag 1992 Interview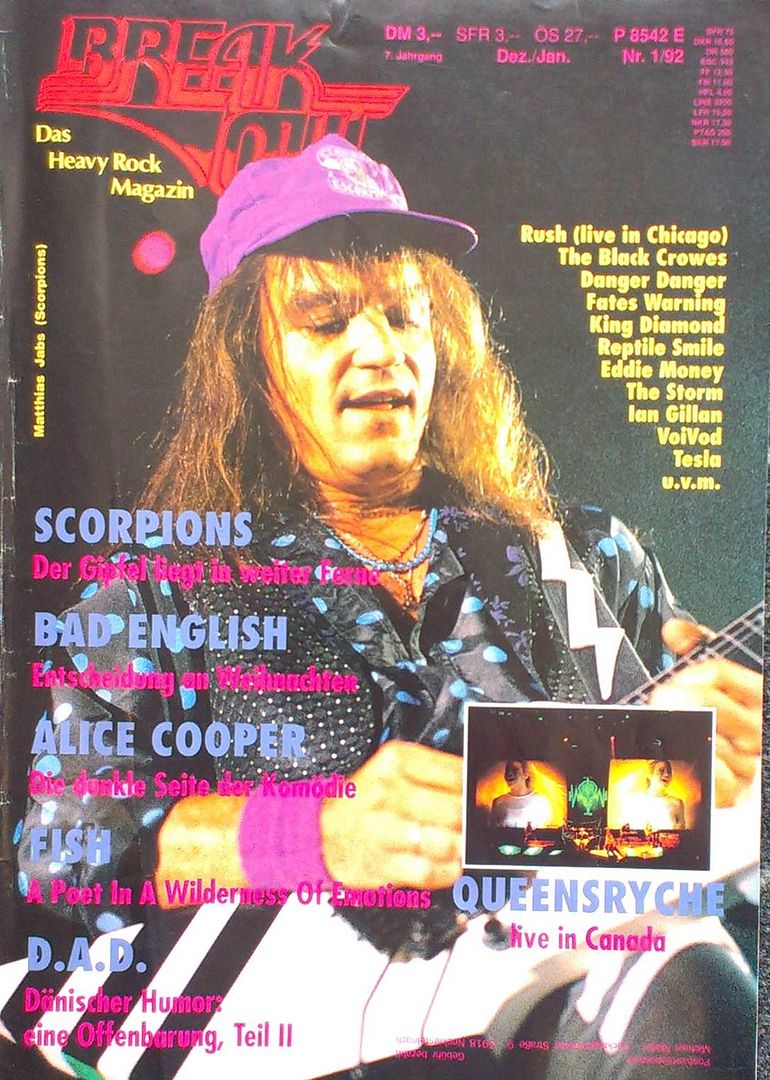 Source: BREAK OUT
Edition: 1
Year: 1992
Pages: 4-5
Reporter: Marco Magin
Highlight article on the release of BAD English second record.
Translation:
BAD ENGLISH - decision at christmas
Due to the release of the second BAD ENGLISH album 'Backlash' singer John Waite scheduled some promotion dates in Europe. This was a fair enough reason to make the three hour trip to Düsseldorf and meet the very friendly musician in a hotel instead of having a telephone interview. The train trip provided enough time to prepare a sufficient amount of questions for John that covered his time with THE BABYS as his solo activities as well.
Q: What is true about the rumours that BAD ENGLISH has split?
To be honest: Since the record had been finished, BAD ENGLISH has been put on hold. Eyeryone is pursuing different projects: Jonathan Cain is building a big big studio right next to his home; Neal Schon just signed a deal for another solo record; Ricky Phillips is working with David Coverdale and Jimmy Page on their project. I think, all of this will be over around christmas time and then we come together again and play some gigs. If not, it might be the end of the band.
Q: Do you consider to use the moniker BAD ENGLISH just by yourself if the other members decide to depart? Neal Schon mentioned, the band has been founded by you.
No, I remember that Jonathan Cain founded the band.It would not be honest to use the band name without the other musicians. We have to stay together as band or we have to quit! If we do not achieve this, I assume..., well, I believe it will work out finally. I have a good feeling! Everyone is a little nervous and needs time for himself. It's been a long time together in the studio and now it is time to refrain a little. Everyone currently pursues his own interest, there is no BAD ENGLISH. I enjoy my time in this band, otherwise I would not promote the album as I do. The new record is great, therefore the work on it has been so tough and challenging.
Q: Do you know where those rumours come from?
Sure. I think, Neal said something in to that direction while he was in San Francisco. At the same time Ricky was on the Coverdale Page job, so there were not to many reasons to believe that the band still existed. It does not look to good, but i still believe that the band can stay together. I know Neal, he is a very emotional character; he quickly quits a band, but returns as quick. He is a great guy!
Q: Why was Ron Nevison chosen as producer for the second record?
Well, we have been waiting a long time for Richie Zito, who produced our debut; this lasted about four month. I recollect, he mixed the WHITE LION album at that time and problems with other projects detained him. We could not afford to wait any longer. So we finally ended up with Ron, who is quite experienced in the musical genre BAD ENGLISH represents. He made up our minds, that not all of the songs we had prepared were ripe enough for a release. So, beeing in the studio while writng new songs turned out to be a verry dificult and expensive process. Therefore we stopped the recordings for three weeks to write some new songs. Ricky and I returned with 'Time Stood Still', Neal and Jonathan added 'Savage Blue' - really great tracks, that ended on the record. As you mention, that 'Time Stood Still' is your favourite track, I like it too. It is not my favourite, but it is an intelligent track. Whenever I could stand the studio anymore, I went to the beach, walked around...beautiful californian sundowns...just like fiction. The track is based on this fictions. It's been a great inspiration.
Q: Richie vs. Ron - are there differences?
Well, Ron can be hard and arrogant, whereas Richie is a great buddy with lots of humour. Eyeryone likes Richie, whereas with Ron it is different. On the other hand Ron brought us back on track while we were all heading in different directions. Ron controlled BAD ENGLISH in way Jonathan couldn't. We parted ways, different musical ambitions got mixed up and nothing worked out. The band needed someone from the outside to step in and tell, which songs were good and which ones needed more work to be done on. Ron knew the answers. It was not very pleasant to work that way.
Q: Why didn't you take over the producer position? You are named as co-producer on some of your solo records.
That's true, but BAD ENGLISH did not want to sound like John Waite solo record.
Q: Why didn't Neal and Jonathan take over?
Then it would have sounded like a JOURNEY record. That's the problem: Let them do it and you end up with a JOURNEY record without Steve Perry; let me do it, you will end up with a John Waite solo album. Only when you put those elements together, you will create the BAD ENGLISH sound...we were flabbergasted!
Q: Once again Hugh Syme was involved in the artwork.
Oh yes, he is marvellous. He had already beein involved in the debut's artwork. If you review, what he is doing...he is really talented. It is difficult to work directly with him, because he lives reclusively. Sometimes it is not easy to get in contact with him. Originally the flag showed pink, yellow, black and green colours. Then he cam up with black union jack, which is such a clever allusion on BAD ENGLISH. We were just thrilled!
Q: What does the album title express?
During the recording process we realized what we were just experiencing. It has been devilish: I had two car accidents, our equipment was stolen; Steve Marriott - one of my heroes - died, then Johnny Thunders. Everything went wrong. Maybe this has been the worst period of my life. There's been a lot of sadness and darkness over the last two month of the recording process. Really gloomy. It may had an effect on my vocals. I really wanted this record to be great. It's been tough, but the vocal recordings only lasted two and a half weeks. Six month overall, only two and a half weeks for the vocals (laughing).
Q: Why did you come over personally to promote the record? Especially american musicians don't do that very often.
Well, I did promotion in the US for a month. I went to several radio stations and sang live. Then I participated in a big festíval in Florida. The succes of BAD English in Europe is something I am interested in - I just wanted to come over. Unfortunately we never played over here. So, I at least have to come over and give some interviews. Telephone calls are so impersonal. It's a pleasure to travel here: Netherlands, London, Germany, tonight I head to Italy...I enjoy my time over here!
Q: Do think that some of the conflicts in the band originate in your and neals strong characters?
No, I think, that difficulties in the songwriting process were the reason. It just did not work smoothly, everyone pursued his personal interests. This is not uncommon or wrong. I do it myself, because I can only write lyrics on melodies I can sing. That's becomes to be a problem in a band, where noone tries to write something that might suit the singer. Besides, the musical talent and technical abilities within BAD ENGLISH are exceptional. This is the reason, why we want to meet on christmas again and try to solve these problems.
Q: How has your singing changed since your first record with THE BABYS?
I found my style and I am a lot more confident. I learned to be confident. Originally I started as a bass player and not as a singer. After the first record Ron Nevison made me deliver a vocal performance on the second I didn't even know I was able to. It was very rewarding to work with him. He showed me lot those days - other then nowadays.
Q: You have a very expressive voice - have you ever received a vocal coaching?
No, only vocal school I went to was a rock'n'roll life.
Q: Have you ever considered a BABYS-reunion?
Yes. If we hadn't have toured with BAD ENGLISH , there would have been another solo record. For this solo record I intended to reunite THE BABYS for one track. Eight months ago I meet Tony Brock. We had some drinks and talked. I miss him, I miss them all. I miss all those events, but one canot just go back. To be honest: If it does not work out with BAD ENGLISH, it might be an option...
Q: Having a look at the cover artwork, it seems that – beside the BABYS debut – you never smile.
Hm, yeh (laughing).
Q: Especially on the BAD ENGLISH covers your mimics are rather stern.
Well, for 'Backlash' I tried to make them use a picture, that shows me laughing. They didn't want to print it. The company decided that it would not suit the image of the band. That's the way they see me.
Q: What a kind of image they planned to establish?
That of a hard rock band. This hasn't exactly been my vision, but that's what they wanted and we obeyed. Well, it is a tough job to make a decent picture of me (laughing).
Q: After four solo records – what made you to join a band again?
I wanted to go back to rock 'n' roll and to turn away from a lot of responsibility – just having fun! During my solo career I took to many things too serious and I had to get out of this extreme development.
Q: Your solo debut was published on Chrysalis and never got any promotion.
Well, with THE BABYS we were with the same label and it was just the same. It was tough.
Q: 'Ignition' is not very well-known over here, so many people listening to 'No Brakes' thought, that that record was your debut.
Yeah, I know. I can look back on long-time career with lots of ups and downs. It is interesting. I cannot complain about the recent years. I am inspired to write strong music by heart and about life.
Q: Is there anything in past career you would have done differently if you could?
Yes, I would have hired a good lawyer right from the beginning. I didn't care about legal matters for a long time. People in the business can be very rude and undertake unbelievable things.
Q: Do a lot of fans ask you about your solo career and the time in THE BABYS?
To my surprise, yes. BAD ENGLISH sometimes plays 'Missing You' in an acoustic version and the crowd love it. They love the song, it is a real classic. If THE BABYS would have had such a song a lot of things would have gone differently.
Q: Yeah 'Missing You' is a worldwide hit. Some people say, that the third record is the 'make it or break it' record. What about 'Mask Of Smiles' and the weak reception in Europe…
This album has been difficult to make. Preceding the recording I toured for about 18 months. I met that girl I really fell in love to. It didn't work out. I was feeling sick and was in trouble. The songs I wrote based on those issues. For some times I was suicidal and totally lost in darkness. Nowadays I am bewildered I survived. It was living on the edge, very self-destructive.
Q: For the fourth record 'Rover's Return' you co-wrote the brilliant track 'These Times Are Hard For Lovers' with Desmond Child. Are there any plans for a future collaboration?
Actually we collaborate even when we do not work together. A lot of my ideas are in his writing (laughs). He is very talented, a good producer, but his record 'Discipline'…? 'Rover's Return' took a long time, maybe a year. I changed management, lost the guitar player, found a new drummer. I went to England and played Reading Festival and to nights at the Marquee Club. Making this record I moved to many places. It has been pretty turbulent. Then my manager Trudy Green stepped in and moved fished me out of the whirlpool.
Q: Why haven't you never written for other acts? You are a brilliant songwriter.
Thank you, no one wanted my songs. I send around twenty songs to a company, that offered them to several bands: they were all rejected, because they would sound to much like me. I believe, everything I write is instinctively written for myself